Sprache: de | en
Verschiedenes
Bilder Geschichten
Info: Die Seite ist leider nur in Englisch verfügbar!
Picture Stories - Bayrischzell July 2012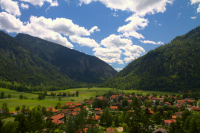 Deep in the Bavarian alps is the small, but beautiful village Bayrischzell located. It has only a couple of hundred inhabitants, but this underlines the typical lifestyle. I also visited the Wendelstein Observatory on top on the same named Wendelstein mountain with a height of roughly 2000 meters.


More Pictures
Below are some pictures taken in Bayrischzell and on top of the Wendelstein: