Sprache: de | en
Verschiedenes
Bilder Geschichten
Info: Die Seite ist leider nur in Englisch verfügbar!
Picture Stories - Duestenbrock April 2014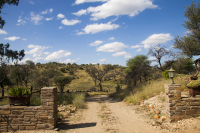 Our tour through Namibia started in Windhoek, where we got our car and then quickly headed to Duestenbrock, a small private guest farm roughly 50 km located outside Windhoek. Once we arrived we could directly go to our first "game drive", the "Cats Unlimited" tour to feed the cheetahs and a leopard. The second was a real game drive through the whole area.
We got back very late without seeing much animals, but for getting a first impression it was a good experience. After that we directly tried to get to our "chalet", located a little bit outside the normal guest quarters, which was not easy to reach.

More Pictures
For further pictures see below:
Cell Phone Pictures
Okay these were done with my phone, but some of them are still quite good since it was mostly used for landscape shots: