Sprache: de | en
Verschiedenes
Bilder Geschichten
Info: Die Seite ist leider nur in Englisch verfügbar!
Picture Stories - Red Canyon November 2012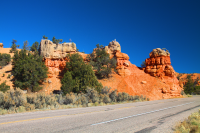 On my way to Bryce Canyon I quickly visited Red Canyon, which is a small national park with really red rocks. It is also nice for a bicycle tour with special roads through the park. Of course it is not as big as Grand or Bryce Canyon, but on the other hand you don't need to buy a permit to enter it.


More Pictures
I was there only one hour so there are not much pictures: