Sprache: de | en
Verschiedenes
Bilder Geschichten
Info: Die Seite ist leider nur in Englisch verfügbar!
Picture Stories - Vienna June 2013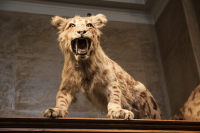 For a system test of my PhD thesis I went to Vienna and also took the chance to see some of my favorite places again. One of them was definitely the Museum of natural history. An old palace near the parliament of Austria which contains more than 30 million exhibits. Among them are moon stones, dinosaurs and as you can see on the left picture a small Sabertooth creature called "Megantereon".
In addition I also visited the zoo located near one of the most famous attraction of Vienna, the castle Schoenbrunn. This time I went through the castle and used the entrance over the garden, which is also very beautiful.

More Images
Two more pictures of the Museum of natural history:
Schoenbrunn castle:
Zoo Vienna: