Sprache: de | en
Verschiedenes
Bilder Geschichten
Info: Die Seite ist leider nur in Englisch verfügbar!
Picture Stories - Watership Down May 2014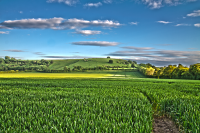 During my trip to London I also needed to go to Oxford for a meeting and this is very close to Watership Down. The real place of one of my favorite books, so I couldn't help it, but visit. The weather was very bad in the first day, but on the last evening it cleared up eventually. Of course I didn't had time to revisit everything, but I also don't complain, because it could have rained during my whole stay.

More Pictures
For further pictures see below: