Sprache: de | en
Verschiedenes
Info: Die Seite ist leider nur in Englisch verfügbar!
Picture Stories - London Zoo May 2014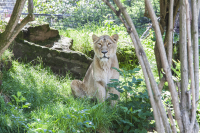 The London zoo was of course also on my list. And fortunately on that day the weather was much better. The lioness is also enjoying the sunshine and a few other animals. They also had little cute tiger cubs, but I wasn't able to make a good picture of them. However, I hope you still like these ones.

More Pictures
For further pictures see below: