Sprache: de | en
König der Löwen 3
Info: Die Seite ist leider nur in Englisch verfügbar!
Picture Stories - Vienna December 2013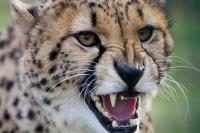 During Christmas time I needed to visit Vienna again and also made a detour to the Zoo, which was unexpectedly empty. I almost stayed the whole time at the cheetah enclosure, who comes regularly very very close to the fence, as you can see on the left picture.
But also the tigers and pandas was very nice. Unfortunately the lions stayed most of the time on their platform and thus out of sight.

More Images
Some more shots from the Vienna Zoo: